What: Olympia Oyster Bar
Where: 4214 N Mississippi
When: Tues-Thurs 4-9 pm, Fri & Sat 2-10 pm, Sun 2-9pm, HH open-6 pm Tues-Fri
Honeys Heart: Natty and Shellfish Wednesday Special
My life really got a solid shake up in 2017 and as a result, my cousin Chase got an expected new roommate: yours truly! My new living situation means more than a few things have changed for me. For example:
I drink good wine now (because I drink Chase's wine).
I watch substantially more sports and boy movies, i.e. movies with Keanu Reeves.
I have been exploring more of my new neighborhood, Mississippi St.
I don't cook anymore because one of my roomies cooks, or I order food, or I meet up with friends.
In accordance with those last two bullet points, I think I have now been to every restaurant on Mississippi, my favs being
Lovely's Fifty Fifty
,
Por Que No
, and my #1,
Olympia Oyster Bar
.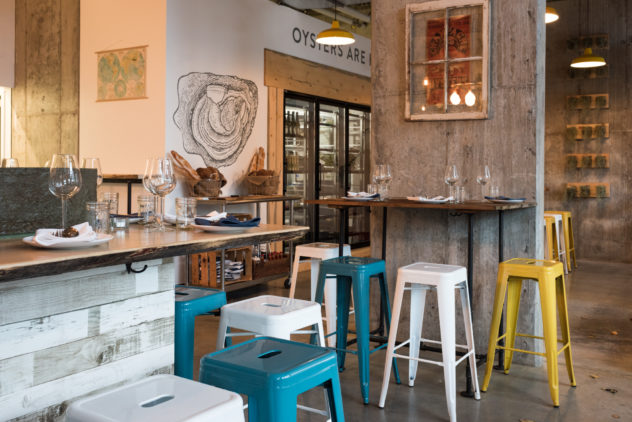 (photo courtesy of Olympia's website)
Olympia Oyster Bar (can we just call it OOB because I'm typing this hungover and it's a long restaurant name?) is just the cutest neighborhood oyster and wine bar with dishes inspired by Chef Maylin's Mexican heritage and flavors influenced by Japan and the Mediterranean. It's where I like to go when I want to class it up a bit and balance out those nights of drinking beer at dive bars (because I do that now too).
The best discovery I made about OOB is their Wednesday night
"Natty and Shellfish"
special. It's a $20 bucket of mussels and clams and $20(ish) bottles of natural wines. The bucket is enough to share, but if I'm going to be drinking/eating alone (add that to the list), it feels better to do it somewhere nice.
On my recent solo visit, I did take home about half the mussels and clams and half the bottle of wine because Chase and I needed to watch
The Voice
. #priorities
I also probably didn't need to add oysters into the mix that night seeing as how I was a party of one, but I felt like trying their Raw Pomegranate ($13) preparation with pomegranate elixir, ginger amaranth, and blood orange oil. I mean, it was tasty but I would rather go on "Oyster Tuesday" and just get a $9 half dozen.
Because I have become obsessed with this Wednesday night special, I try to go a lot. A friend I hadn't seen in six months wanted to grab happy hour and I knew the life update would need to be accompanied by plenty of wine - perfect opportunity for the OOB Wednesday night special!
Bottle one. Look at that funny dog...
Yes, we got the mussels and clams and yes, it was delicious again.
Bottle two.
Two bottles in means more food, obvs. We tried to get bread and goat butter, but they were out of butter so instead we tried the Trout Conserva Toast ($7) off the happy hour menu. It was light, fresh, and delish.
There were a couple other things on their happy hour that looked tasty, so I'm open for Wednesday night dates (friend dates, come on...) with people so that I can try more things.
Bottle three. (Yes, you read that right. We had three bottles of wine and the best part is that for three bottles of wine, mussels and clams, and trout toast, I think our bill was only $96 aka $48 per person... um, that's a good deal for all that food and wine!)
In addition to great food and drink, the service at OOB has always been exceptional. Their staff is friendly and they offer recommendations, which is important for someone who lacks certain decision-making capabilities.
Even when I move out of the hood (I can't live with my cousin forever, I am a 30-year-old single lady, after all) OOB will bring me back. And probably I'll also swing by Chase's for some wine while I'm at it...